SANTA CRUZ MOUNTAIN BIKE 

DAY TOUR
Enjoy An Epic Mountain Bike Day Exploring The Best Trails Around Santa Cruz!
OVER

VIEW
Dates: All Seasons, depending on conditions
Location: Santa Cruz, CA
Duration: 2-5 Hours
Skill Level: Beginner to Advanced
Price: $100 per person
Enjoy some of the best mountain bike trails in Santa Cruz, CA. Our certified guides will lead you on a 2-4 hour mountain bike ride, if requested, guides will provide training tips and techniques to riders. This day-trip is for all ability levels and is a great experience for the whole family as well as individuals and groups of any size.
WHAT'S

 INCLUDED
Bike tour exploring the best singletrack in Santa Cruz
Professionally certified guide and skill session.
WHAT'S

 NOT INCLUDED
Mountain Bike Rental – If you need to rent a bike please let us know so that we can coordinate your rental.
Gear: Bike, Bike clothing, shoes, helmet, gloves, glasses, sunscreen, etc
Gratuities for LGA guides (at your discretion)
ITINERARY

MEETING TIME
Meeting Time:  9 AM
Meeting Location: (ABS) Another Bike Shop Located in Santa Cruz off of HWY 1/Mission St. and Swift St.
2361 Mission St, Santa Cruz, CA 95060, Latitude: 36.960687, Longitude: -122.047824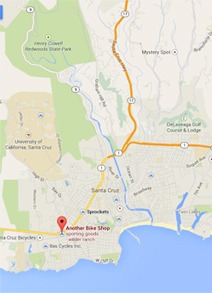 FA

Q
Check out our General FAQs section. Here you will find answers to your general questions.
What Should I Bring With Me?
Mountain Bike Gear:
Mountain bike (if you need a rental bike please contact us)
Bike Helmet & HeadBand for Sweat Protection
Hydration Pack-Backpack or water bottles (2)
Mountain Bike gloves
Mountain Bike jersey or tops
Bike Shorts & Padded chamois shorts recommended
Leg warmers or longer tights (depending on weather)
Rain jacket & Insulated layers (depending on conditions)
Socks- ankle high or taller recommended
Mtb bike shoes (or athletic shoes if using flat pedals)
Eye protection-sunglasses
Misc/Recommended:
Sunscreen
Extra Snacks/performance food\Extra tubes & patch kit for bike tube repairs. Guides will assist in repairs & will have extras
Optional: cycling computer, cell phone, camera
(We can assist with some gear, please feel free to contact us)
---
Can I Reserve My Trip With a Deposit?
Yes, you can reserve your trip with a Deposit for all tours. Reservations are available immediately once a trip is announced and up to 90 days prior to the Date of Departure. The Deposit amount is twenty percent (20%) of the Tour Price. When booking within 89 days or less prior to the date of departure, the full amount is due at time of booking.
---
When Should I Make My Travel Arrangements?
Please wait until you receive confirmation from Le Grand Adventure Tours before making any travel arrangements. Our team is happy to assist you with any travel needs.
---
When is The Final Payment For This Tours Due?
Final payment is due no later than 90 days prior to departure, or 7 days from booking confirmation if booking is within 90 days.
---
What Is Your Cancellation Policy?
90 days or more prior to Departure: LGA will retain the deposit as an "Adventure Deposit" for a future trip. Full refund will be given.
89-60 days prior to Departure: LGA will retain 50% of the total Tour Price and the deposit will be held as an Adventure Deposit for a future trip.
59 days or less prior to Departure: LGA will retain 100% of the total Tour Price.Le Grand Adventure Tours cannot be held responsible for snow and/or weather conditions. Trips cannot be cancelled or amended on the basis of snow and weather conditions.
---
What Is Your Refund Policy?
No refunds, reimbursements or discounts will be granted if, for any reason, Client misses the Tour, fails to join the Tour, leaves the Tour, is dismissed from the Tour, or cannot fully participate in the Tour. Any Refunds will be at the discretion of Le Grand Adventure Tours if you are involuntarily forced to leave a tour for any reason.
---
When Are Your Santa Cruz Bike Day Tours Available?
Year round depending on weather conditions.
---
What Type of Mountain Bike Should I Bring?
We recommend you bring a solid cross-country or all-mountain bike with you on this trip, with at least 4-6″ of travel if possible. All types of mountain bikes will work but full suspension is the best option.
---
Can I Rent a Mountain Bike?
Full-suspension rentals can be arranged through one of the local shops. Please call us and we can help arrange rental bike options; please contact us with size, and style/model you are interested in and we'll do our best to make it work.
---
What Is The Weather Going To Be Like?
What you will need to bring depends of course largely on the weather you can expect on your trip. For the most accurate weather please check the Santa Cruz weather online a few days before your trip.
---
Do We Need to Tip Our Guides? If So, What is Standard?
Gratuities are not included. Tips are accepted at your discretion based on the overall trip experience provided by our team.
Best Guides Ever!
These guys are as good as it gets. Full dedication to stoke as well as safety. We detoured our original location to chase the powder and it paid off in spades. Jeff & Jeff have the inside knowledge, contacts, and hunger for finding the best conditions and THEY DELIVER. Start to finish they were there for every need and want. I will truly never forget this adventure and highly recommend Le Grand Adventure Tours. A Huge thank you to their team! --James L.
The Holy Grail…
Jeff and Jeff are absolute all stars. These guys are not only technical masters of their trade, but they have the hunger desire and willingness to go hunt for POW that you're looking for! All in all we couldn't have asked for a better trip, because of the amazing snow of course and the incredible country, food and culture of Japan, but most of all because of these two legends. Thanks a ton guys, can't wait till the next go around! -- Nick P.
Simply the best!
I have been fortunate enough to travel all over the world and I find that the location is important but not as important as the people you meet. We were blessed enough to have both with our trip to Japan and it is for one simple reason, Le Grand Adventure. Our guides went above and beyond to make our experience a memorable one. We had the most fun and rode the best POW. Thank you, Le Grand for showing us a country you love so much. --Reid H.
Unreal!
This is an absolute unbelievable adventure. If you want to ski big pow and are also looking for an incredible cultural experience, this is the trip for you. I've skied my entire life (last 18 years in Colorado as well as 3 years in Switzerland / Austria) and this was by far the best ski adventure I have ever taken. Some of the most memorable and best runs of my life. In addition to the incredible snow and terrain, Jeff and Crystal are true professionals both on the Mountain and off. This trip was butter smooth thanks to Le Grand Adventure Tours. A bucket list item for sure! --Ryan P.
The Japan trip with Le Grand Adventure Tours was absolutely amazing and blew us away!!!!
Special thanks to Jeff and Crystal for making all of the necessary arrangements that allowed us to explore the many different areas on Hokkaido and, most importantly, chase the incredible powder (on some days this was literally over our heads!), which is simply amazing! LGAT provides the very best in guide service, with the primary focus on safety and skiing quality terrain! We would have been totally lost without them! We will be back in 2017 and beyond! --Spencer N.
I will be using them again!
I wanted to go ski the legendary deep powder of Hokkaido, Japan. It wasn't one of the banner years on record but we still managed some incredible skiing by doing a little storm chasing. It added some extra adventure to the trip and gave us a chance to see another part of the island. The guides are top notch, incredibly accommodating and on their game. I would highly recommend using Le Grand. They provide a more intimate and personalized experience than many guide outfits. --Darren C.
ImageQuest Japan Trip was out of this World.
The snow in insanely deep and the culture is wicked cool all over Hokkaido. The guides are extremely intelligent and some of the coolest dudes you'll ever meet (Jeff Roberson and Jeff Easter). It was a blast taking photos of all the action as well. I couldn't recommend this trip enough to anyone out their looking to have the best ski trip of their lifetime. Do it! -- Ryan L.
The pictures and videos do not do it justice.
Jeff and his team took care of us everyday and made sure we experienced as much as we could on our trip. We had a mix of conditions from sunny days to one of the deepest days skiing-ever! They know a lot of spots that are on the mountain, off the mountain, and in the backcountry. We did some touring everyday and we were rewarded with incredible views, deep snow, and no crowds all day. Fresh powder every day! Will be going back to explore more areas with them. --Todd A.
Second year in a row working with Jeff
He is knowledgeable, caring, and a great mountaineer. Went this year and last to Hokkaido Japan. aka land of 'Japow'. was as good as it gets and made even better by Jeff and company. They dealt with challenges with grit and an even keeled approach. Always honest and forthcoming, they were excellent. I will use them again and recommend them highly. --Gil A.
Deepest snow of my life!
We searched for deep powder everyday and the guides did a great job of finding the best snow for us. Japan never disappoints and the private vans add a nice touch which allows us to travel to ski the best snow in the area. --James E.
The best trip I have ever been on.
The entire trip was dialed in from the minute we landed to the time we left. 10 days of exploring Japan, finding the deepest snow everyday, the cultural sights, and food were incredible. Can't wait to go back! --Dan M.
An LGA team member will be in contact with you to discuss the trip to ensure a proper fit!
Please note: You will not be confirmed to book a trip until speaking with a trip consultant.