ZERMATT MATTERHORN ULTIMATE EXPERIENCE MOUNTAIN BIKE TOUR
SingleTrack Paradise Amongst the Matterhorn, Zermatt and the Monta Rosa Range. One of the most jawdropping destinations for mountain biking with hundreds of miles of trails through the Valais region.
The Valais Canton of Switzerland offers an incredible experience for cycling, mountain biking and enduro style riding. Imagine biking under the north face of the Matterhorn and out to a glacier before returning back to town on a 10 mile descent. High alpine singletrack and flow trails that are all lift served by an incredible network of gondolas, trains, chairlifts and shuttles. We even have a couple secret lifts to show you!
Mountain biking in Switzerland is a must do for any mountain biker! A wide diversity of singletracks accessible by one of the best transportation systems in the world. This allows our guides to show you an incredible variety of areas during our tours. Remote mountain huts for lunch, biking trails that have played a major part in history, and enjoying the views in one of the most iconic destinations in the world.
Over the course of the week ride multiple valleys surrounding Zermatt and pass by the dozens of 4,000 meter peaks and glaciers. Spend the day riding along blue alpine lakes and empty singletrack with some of the most awe inspiring views you will ever see. Long descents of up to 6,000 feet are possible with minimal climbing.
Ride the Gornergrat Train up to an elevation of 10,000 feet and descend singletrack back to Zermatt covering 6,000+ feet of downhilling. Guests will get a chance to ride the downhill trails at Sunnegga, a sunset ride amongst the Matterhorn, the new flow trail, and an option to do a heli bike drop with Air Zermatt!
Guests are In good hands: Our LGA team of Swiss Mountain Bike Guides have numerous routes through the valleys and inside knowledge to the best kept secrets in the valleys as they have lived in these regions for their entire lives. Our team of international bike guides live for mountain biking and Zermatt is one of the best in the world
Whether one is looking for flowing trails or steep and technically demanding, the mountains surrounding Zermatt offer a wide range of trails between 4,600 feet to just over 10,000 feet. Over 100 miles of singletrack in the valley plus the endless trails in the valley around Brig will allow the group to experience the best of the best.
Stay 7 nights at the base of the mountain in the Mattihol Hotel which is part of the Swiss Bike hotel network. You can ride your bike right from the hotel to start the day or ride the flow trail that is right our the door if you feel like making a quick lap! The Mattihol Hotel offers a bike room with bike tools, storage and free laundry every night for your bike clothes. Free Wi-Fi throughout the hotel, flat-screen TVs, new beds, an inside/outside lounge, in house restaurant (Filet es Fils) Travel with No baggage: Our partner bike hotels ensure easy touring with luggage transfers.
Dates:
2017: Sunday, August 27 – Sunday, September 3, 2017
2018: Dates coming soon…
Location: Zermatt and the Valais Canton of Switzerland
Tour Length: 8 days | 7 nights | 7 Days of Mountain Biking
Level of Difficulty: High Intermediate and Above
Guide Ratio: 4 to 1 Client to Guide ratio
Included Meals: Breakfasts | 2 Group Dinners at Traditional Swiss Restaurants | Welcome Reception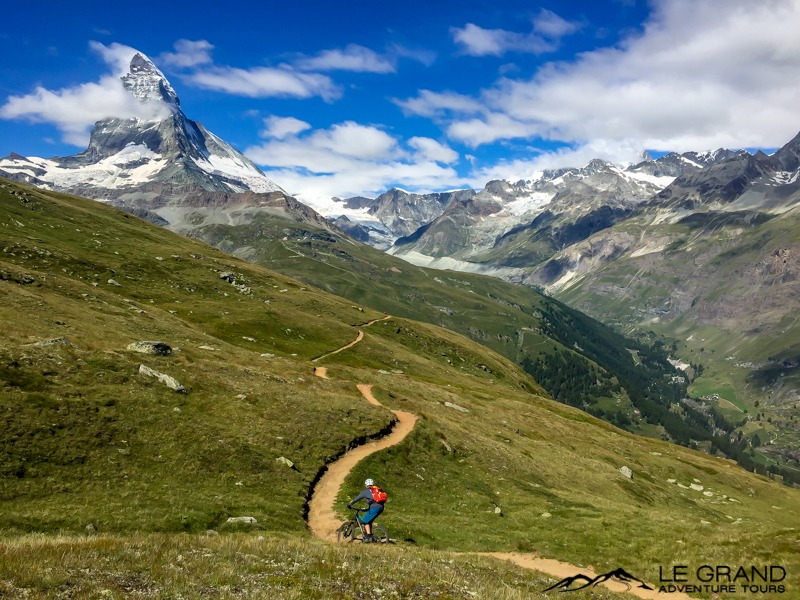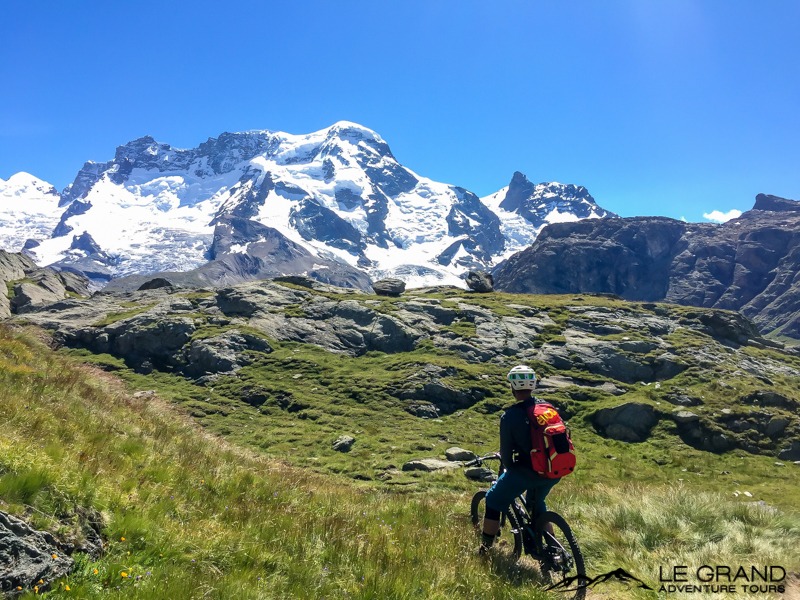 WHAT'S

INCLUDED
7 Nights* at Swiss Bike Hotels
Transportation to/from Zurich Airport, Hotels and Biking Areas
6 Days of Lift Tickets and Guided Mountain Biking through Davos, Engadin Valley/St. Moritz and Livigno, Italy
Daily Skills Sessions with Professional International Mountain Bike Guides (IMBA)
Ride on the Glacier Express, the most famous railway in the world
Daily Swiss Breakfasts at our partner hotels
Welcome & Farewell Dinner (guests are responsible for alcoholic beverages during meals)
LGA T-Shirt and Goodie Bag from our partners
*Hotel Rooms are based on 2 people per room. If you would like a room to yourself please contact us.
THE RIDING

EXPERIENCE
Experience a vast network of alpine singletrack that is on a different level and in a landscape unmatched by many other locations. With long beautiful singletracks winding down thousands of vertical feet of Swiss Alps mountainsides, it is your chance to ride this legendary area. From gondolas, trams, shuttles, and trains that ascend to every near by peak in the valley, our guests get to experience all Zermatt has to offer including the Gornergrat train-assisted descents, the flowing downhills from Sunnega and the endless trail network of the Valais region. The Matterhorn stands guard over some of the most breathtaking singletrack in the world and leads to trails that never seem to end. There is no denying that Zermatt is a very special place to mountain bike in Switzerland! Descents up to 7,000 feet, magical flowing trails that take you on a full alpine adventure through awe inspiring glacial peaks to the wooded valleys below. A mountain bikers paradise!
---
THE CULINARY

EXPERIENCE
Every morning you will be treated with healthy Swiss breakfasts before we start our day. We host 2 group dinners (Welcome & Farewell) at local restaurants. Swiss meals are known for their quality & local ingredients as each region we visit has its own unique flavor. The group will have lunches at various mountain huts, restaurants and cafe's while you take in the 360′ Swiss Mountain views. We leave these open so each guests can explore new foods to try.
---
THE LODGING

EXPERIENCE
Lodging for the week is at the Matthiol Hotel set at the edge of Zermatt on the mountainside by the trails. The owners have created a true alpine hospitality meets modern comforts hotel that caters to sport minded individuals. The hotel is part of the Bike Hotels of Switzerland program that offers mountain bikers and cyclists everything they need for a cycling vacation. The Matthiol is built in charming chalet style and equipped with modern comforts, an indoor/outdoor lounge area, in house restaurant Filet Et Fils, and a wellness area to relax in after a long day mountain biking. The new Moos Flow trail is a couple of minutes away and you can ride in/ ride out of the hotel to the local trails and lifts. Its a quick 15 minute walk along the river to the center of town so you can explore all Zermatt has to offer during your visit. Free WiFi, daily breakfast, and comfortable twin rooms await you at one of our favorite hotels. Massage services and wellness programs are available after a long day in the saddle (optional add-on). Enjoy ease of travel between destinations with no baggage as our guides ensure easy touring handling all of your luggage transfers.
SAMPLE

ITINERARY
Day 1 – Arrival Day
Fly into Zurich Airport (ZRH) by 1pm where the LGA team will be there to travel with you to Zermatt. In some cases you may need to plan your arrival the day before. There are many hotels near the airport offering shuttle service so it is easy to meet the group back at the airport by 1pm. We suggest using Booking.com to find a nearby hotel.
Le Grand Adventure Tours welcomes you to Switzerland! One of our all-time favorite places to mountain bike in the world! All guests will rendezvous at Zurich International Airport and meet the LGA Team by 1:00 pm. From here we will transfer you through beautiful Switzerland and into the iconic town of Zermatt. Inspiring views of the Matterhorn and glaciers await you. The Hotel Matthiol sits on the mountain near the lifts of Zermatt and is part of the Bike Hotels of Switzerland Program. This will be your home for the next 8 days to explore this truly amazing area. We will build/assemble bikes if you brought one or we will visit our partner shop in Zermatt to pick up your rental bike. Possible ride depending today on conditions. The new Moos Flow Trail is right out the door and easily accessible for a quick ride. Enjoy a Welcome Reception with local wine from the Valais region, beer from Zermatt Matterhorn Brewery and local meats, cheeses and breads. Tonight is your time to relax at the hotel, explore the town, and enjoy a fresh cooked meal with our guides at Filet Et Fils at our Welcome dinner. Steep yourself in Swiss culture and immerse into European life.
Hotel: Hotel Matthiol in Zermatt- Bike Hotels of Switzerland Program
Included Meals: Welcome Reception & Welcome Dinner at Filet et Fils
---
Day 2 – 7
Enjoy seven days of mountain biking the famous Zermatt area with our local LGA Guides. Hundreds of miles of trails await you at one of Europes top bike destinations and home to one of the most famous mountains in all of Europe, the Matterhorn. The trails around the Zermatt and Valais region of Switzerland are arguably some of the best in the world and our guides will show you the best single track every day. Wake up at the hotel looking up to the Matterhorn and enjoy a great breakfast buffet with local favorites so you are ready to explore the endless miles of singletrack in the surrounding valleys. The bike area at the hotel will allow you to get your bike dialed in and ready for a great day of epic singletrack in Switzerland.
The Zermatt and Valais region has several areas to ride over the course of our stay in this stunning valley: Ride Davos- Jacobshorn, Klosters A-Line, Setrig Valley, IMBA Epic and many other high alpine trails that only our guides know the best way to access. This huge valley offers some of the longest, high alpine, and expansive terrain in Switzerland. A true Enduro lovers dream location to bike. Drop into 4,000 feet of vertical every day, covering miles of high alpine, perfect singletrack, with endless areas to stop along the way to see glacier waterfalls and the true beauty of the Swiss Alps.
Hotel: Hotel Matthiol in Zermatt- Bike Hotels of Switzerland Program
Included Meals: Daily Breakfast | Brewery tour at the Zermatt Matterhorn Brewery | Farewell Group Dinner at one of our Favorite Restaurants in Zermatt
---
Day 8: Departure Day
Guests will be departing Pontresina on Saturday around 8am after a great 6 days of riding! Join us for breakfast and then pack up, say our goodbyes and enjoy a 3 hour train ride back to Zurich where you can catch a flight home or enjoy a night in the beautiful city walking along Lake Zurich. We recommend selecting a departure after 1pm from Zurich. If you would like to spend another night in Zurich, please contact us and we can help you make arrangements.
Included Meals: Breakfast
NOTE: This itinerary is an example. The tour may be altered to adjust for weather and conditions. Our guides will plan the tour around the conditions to make sure you have the best trip possible.
WHAT'S

NOT INCLUDED
Airfare
Lunches: Guests will be able to have lunch at local villages and mountain lodges through the week.
5 Dinners: Open for the group to explore town together or experience the local cuisine with new friends.
Alcoholic beverages
Gratuities for Guides
Travel & Trip Insurance: We require trip insurance for all trips abroad.
We recommend World Nomads as they are the ultimate in travel protection and global emergencies and evacuations.
Gear: Bike, Bike clothing, shoes, helmet, gloves, glasses, sunscreen, etcfor the duration of the trip.
Rentals: If you need to rent a bike please let us know so that we can coordinate your rental.
FA

Q
Check out our General FAQs section. Here you will find answers to your general questions.
What Should I Bring With Me?
Mountain Bike Gear:
Mountain bike (if you need a rental bike please contact us)
Bike Helmet & HeadBand for Sweat Protection
Hydration Pack-Backpack or water bottles (2)
Mountain Bike gloves
Mountain Bike jersey or tops
Bike Shorts & Padded chamois shorts recommended
Leg warmers or longer tights (depending on weather)
Rain jacket & Insulated layers (depending on conditions)
Socks- ankle high or taller recommended
Mtb bike shoes (or athletic shoes if using flat pedals)
Eye protection-sunglasses
Misc/Recommended:
Sunscreen
Extra Snacks/performance foodExtra tubes & patch kit for bike tube repairs. Guides will assist in repairs & will have extras
Optional: cycling computer, cell phone, camera
(We can assist with some gear, please feel free to contact us)
Après Clothing:
You will be in the Alps for a week so please bring proper clothing for when you're not on the trails.
Travel Requirements:
Current Passport
Credit card, cash and/or traveler's checks
ID or driver's license
Medical insurance cards
Prescriptions or other medications
Important phone numbers
Proof of Travelers Insurance
Emergency contact & Medical info
---
Can I Reserve My Trip With a Deposit?
Yes, you can reserve your trip with a Deposit for all tours. Reservations are available immediately once a trip is announced and up to 90 days prior to the Date of Departure. The Deposit amount is twenty percent (20%) of the Tour Price. When booking within 89 days or less prior to the date of departure, the full amount is due at time of booking.
---
When Should I Make My Travel Arrangements?
Please wait until you receive confirmation from Le Grand Adventure Tours before making any travel arrangements. Our team is happy to assist you with any travel needs.
---
When is The Final Payment For This Tours Due?
Final payment is due no later than 90 days prior to departure, or 7 days from booking confirmation if booking is within 90 days.
---
What Is Your Cancellation Policy?
90 days or more prior to Departure: LGA will retain the deposit as an "Adventure Deposit" for a future trip. Full refund will be given.
89-60 days prior to Departure: LGA will retain 50% of the total Tour Price and the deposit will be held as an Adventure Deposit for a future trip.
59 days or less prior to Departure: LGA will retain 100% of the total Tour Price.
Le Grand Adventure Tours cannot be held responsible for snow and/or weather conditions. Trips cannot be cancelled or amended on the basis of snow and weather conditions.
---
What Is Your Refund Policy?
No refunds, reimbursements or discounts will be granted if, for any reason, Client misses the Tour, fails to join the Tour, leaves the Tour, is dismissed from the Tour, or cannot fully participate in the Tour. Any Refunds will be at the discretion of Le Grand Adventure Tours if you are involuntarily forced to leave a tour for any reason.
---
What Type of Mountain Bike Should I Bring?
A full suspension mountain bike is the best option.
---
Can I Rent a Mountain Bike?
We can rent bike through our partner shop Bike Academy Davos. Please provide advanced notice so we can help you reserve gear, thank you.
---
What is the Best Way to Get There?
Fly into Zurich Airport (ZRH) by 11am where the LGA team will be there to travel with you to Davos. In some cases you may need to plan your arrival the day before. There are many hotels near the airport offering shuttle service so it is easy to meet the group back at the airport by 1pm. We suggest using Booking.com to find a nearby hotel.
---
What Is The Weather Going To Be Like?
What you will need to bring depends of course largely on the weather you can expect on your trip. For the most accurate weather please check the Davos & St. Moritz forecast through Weather Underground a few days before your trip. We will be in the high alpine mountains so bring clothes that will keep you cool and/or warm in a wide variety of conditions.
---
What is The Group Size?
Small group sizes that don't exceed 10 guests.
---
Do We Need to Tip Our Guides? If So, What is Standard?
Gratuities are not included. Tips are accepted at your discretion based on the overall trip experience provided by our team.
---
Do I Need Trip Insurance?
Trip Insurance is Not Included: We require trip insurance for all trips abroad. Protecting your trip & safety is our priority!
We recommend World Nomads as they are the ultimate in travel protection and global emergencies and evacuations.
---
How Long Does It Take to Fly to Switzerland?
Flight time from the West Coast of the United States to Zurich is approximately 11.5 hours if you book a non-stop flight. From the East Coast the flight time is approximately 8 hours.
---
Can I Use My Credit Card in Switzerland?
Credit cards are widely accepted, but Amex is not always accepted. Better stick with Visa. You will need some cash – but just for casual expenses. Most things can be paid for by credit card. The currency is CHF/Swiss Franc. EUR is not the currency of Switzerland (even if it is sometimes accepted by some merchants at a bad exchange rate). It never makes sense to carry too much cash on you – anywhere. Withdrawing cash from your checking account using your US cash/debit card is usually much cheaper than converting dollar bills at an exchange desk and you will get the BEST Exchange rate. Many credit cards charge a foreign transaction fee around 3-5%. This may be the time to get yourself a fun new rewards travel credit card that comes with "No Foreign Transaction Fees." We never leave home without it.
---
Which Languages are Spoken in Switzerland?
The four national languages of Switzerland are German, French, Italian and Romansh. In the Davos & St. Moritz area they speak German or a Swiss-German dialect. You will find English is widely spoke all over Switzerland. It is still great to learn a few of the day to day vocabulary to be polite.
---
Is It Safe to Travel to Switzerland?
Switzerland is very safe. Always take regular precautions whenever abroad to save yourself from any potential headaches that could interfere with your travels.
---
I Heard Switzerland is Expensive, How Expensive is it?
With its plethora of international banks, the country is a center for global wealth. This means prices are high, but people are paid quite well. Supermarket sell pre-made meals for between 5-9 CHF. Bars and cafés are the cheapest food option, cost about 9-15 CHF for a lunch special. Restaurants with table service are around 20 CHF for lunch and 40 CHF for dinner (starter, main, and drink) to start. You'll typically find pizzas for around 20 CHF in a restaurant. If you're dining out (but still trying to stick to a budget), you'll spend an average of 25-45 CHF a day on food.
Engelberg/Andermatt Freeride Ski Trip
I spent a week in Switzerland with LGA and had one of the best weeks of my life on all and every level. Jeff and Crystal go above and beyond to insure all aspects of the tour are top tier and amazing. They are not only great people but have in depth knowledge, insight, and information to make the trip fun, safe, and memorable. Skiing in places like Japan, AK, and Argentina I thought I had seen it all, but Jeff showed me some amazing skiing that marked as some of the best of my life. A truly great trip.
Ryan M.
Japan Ski Trip
Japan Powder Tour – Unreal! This is an absolute unbelievable adventure. If you want to ski big pow and are also looking for an incredible cultural experience, this is the trip for you. I've skied my entire life (last 18 years in Colorado as well as 3 years in Switzerland / Austria) and this was by far the best ski adventure I have ever taken. Some of the most memorable and best runs of my life. In addition to the incredible snow and terrain, Jeff and Crystal are true professionals both on the Mountain and off. This trip was butter smooth thanks to Le Grand Adventure Tours. A bucket list item for sure!
Ryan P.
Swiss Road Bike Trip
Wow this was really special. We road during the day and then went on wine or brewery tours, or we went to great restaurants every night. Jeff and Crystal were really impressive. Our group was intentionally small – just 4 of us. The private guiding was amazing because they knew SO much about the country. Even with just 4 of us, the rider ability was very different and they made it fun for everyone. We saw so many amazing sights we never would have found without Le Grand Adventure Tours.They coordinated the lodging, restaurants, rides, trains, etc. At 47, this was the best trip of my life. Jeff and Crystal have great energy and that is contagious. Jeff is the best cyclist I have ever seen and he can lead anyone. Crystal is an absolute joy to be around and the two of them are an unbeatable pair. I strongly suggest them.
Rich M.
Murren Ski Trip
Our Murren Switzerland Ski Trip was amazing! Jeff and Crystal did an awesome job creating a perfect trip with great skiing, incomparable ambiance, and the European Ski Vacation we had on our bucket list for years. They took care to find the best snow each day in an enormous valley full of choices, while maintaining the romance (our 20 year Anniversary) and adventure (cliffs, zip lines, Alp vistas) of an epic European vacation. If you enjoy great, challenging skiing, and well planned trip in a beautiful place, I highly recommend a trip with Le Grande Adventure Tours.
Casey T.
Chamonix Ski Trip
Beyond all expectations! These guys rule. The guides were incredibly knowledgable. The skiing was phenomenal. Decisions about where the best snow would be for the day's conditions were always spot on. The terrain we skied matched the advanced level of the group, so that everyone was comfortably challenged. Accommodation was a lovely private chalet, super comfortable, and cleaned daily – a convenient short walk to town. The hot tub was a huge bonus. Private chefs provided exceptional feasts. Private daily ski transportation made travel easy. The professional photography came out amazing – such a nice treat to leave a trip like this with. No corners were cut. I always felt in good hands. I traveled solo and felt incredibly welcomed. I highly highly recommend joining a Le Grand Adventure Tour.
Judith K.
Fill out the below form to book your trip of a lifetime. An LGA team member will be in contact with you to discuss the trip to ensure a proper fit! Please note: You will not be confirmed to book a trip until speaking with a trip consultant.
"The mountains are calling and I must go"


~ John Muir