What Should I Bring With Me?
Ski/Snowboard Gear:
Skis/Snowboard, boots, poles
Goggles
Helmet – stay safe on the slopes!!
Misc/Recommended:
Backpack
Avalanche Transceiver
Shovel/Probe
Touring Gear and Skins
Packable Puffy
Climbing Harness (that fits over ski pants)
(We can assist with some gear, please feel free to contact us)
Après Clothing:
You will be in the Alps for a week so please bring proper clothing for when you're not on the slopes.
Travel Requirements:
Current Passport
Credit card, cash and/or traveler's checks
ID or driver's license
Medical insurance cards
Prescriptions or other medications
Important phone numbers
Proof of Travelers Insurance
---
What Type of Skis To Bring?
A ski with roughly a 100mm to 110mm is the best option. If you want to bring a wider pair of skis please feel free or we can rent these if needed.
---
Do I Need Ski Touring Equipment?
It is highly recommended but not mandatory. If you have a new pair of touring bindings (Dynafit, Plum, Marker, Salomon, etc) and are comfortable skiing a wide variety of terrain on them, please feel free to bring them.
---
Do I Need Backcountry Safety Gear?
Avalanche safety gear is required on all of our tours. If you have your own equipment please bring it. Ski backpacks including beacon, shovel and probe are available to rent for $150 for the duration of the trip. (Option available to add-on at checkout. If you wish to add later please feel free to contact us.)
---
Ski & Gear Rentals
If you wish to rent ski/snowboard equipment please let us know so that we can coordinate your rental. Please advise the LGA Team before the trip if you will need gear.
---
What is the Best Way to Get There?
Fly into New Chitose Airport (CTS) by 1pm where the group will be there to transport you. In some cases you may need to plan your arrival the day before. There are many hotels near the airport offering shuttle service so it is easy to meet the group back at the airport by 1pm. We suggest using Booking.com to find a nearby hotel.
---
What Is The Weather Going To Be Like?
For the most accurate weather please check the Niseko Weather Online a few days before your trip. If you want to experience the best snow in the world, you need to be prepared with good gear, as it can get cold. It's not unusual to receive 30cm to 50cm+ (12 to 20″+) of snow overnight! Many storms will drop upward of 100cm's plus or basically 3 feet every couple of days. We will be in the mountains so bring clothes that will keep you warm in a wide variety of conditions. We will guarantee you get the most out of your ski holiday as we have a wide range of activities that we can add into the trip incase there are down days due to snow storms or weather.
---
What is The Group Size?
Small group sizes that don't exceed 10 guests.
---
Do We Need to Tip Our Guides? If So, What is Standard?
Gratuities are not included. Tips are accepted at your discretion based on the overall trip experience provided by our team.
---
Do I Need Trip Insurance?
Trip Insurance is Not Included: We require trip insurance for all trips abroad. Protecting your trip & safety is our priority!
We recommend World Nomads as they are the ultimate in travel protection and global emergencies and evacuations.
---
How Long Does It Take to Fly to Japan?
Flight time from the West Coast of the United States to Japan is approximately 10-16 hours depending on if you book a direct flight or a flight with stops.
---
Are There Any Rules/Traditions Pertaining To The Onsens (Hot Springs)?
Onsens are usually dedicated as either male or female baths. An onsen is a natural thermal hot spring. A word of warning – if you have tattoos you may not be allowed to enter. However, if you are a foreigner and the tattoos are not particularly obvious then you will generally be OK. Make sure you wash and rinse off your body before you get into the water. Note: Ritually these are full nudity baths, there are small towels to cover your 'modesty'.
---
Can I Use My Credit Card in Japan?
Japan is mostly a cash based society. Most larger restaurants and bars will probably accept international credit cards (non-Japanese), a lot of smaller restaurants, bars and convenience stores will only accept cash. As crime in Japan is one of the lowest in the world, most people carry plenty of cash with them. A lot of ATMs in Japan do not accept international cards.
---
Which Languages are Spoken in Japan?
Japanese is the native language of Japan. The amount of English that is spoken varies considerably in Japan. A good rule of thumb is that English is much more widely spoken in destinations that are popular with international tourists.
---
Is It Safe to Travel to Japan?
In general Japan is one of the safest countries in the world to travel around. This is due largely to one of the lowest crime rates in the world and the incredible hospitality of the Japanese people.
---
Why Does Japan Get so Much Snow?
The abundance of powder in Japan is a result of the Siberian snow stream, the largest example of lake-effect snow in the world. High pressure over Siberia and low pressure over the Western Pacific leads to a constant flow of cool air across Japan. As this chilled, dry air flows over the Japan Sea it attracts moisture and becomes overly-saturated. This air hits the mountain ranges of the Northern Alps and Japan is blanketed with powder snow. These cyclical weather patterns last for weeks, guaranteeing regular dumps of the lightest and fluffiest powder imaginable.
---
What Are The Japanese Mountains Like Compared to Europe and North America?
This varies somewhat between resorts and the different islands but generally the major Japanese resorts are not as high and steep as their counterparts in Europe and North America. Ultimately one must always understand the snowpack as it can change rapidly in the mountains and is safest to travel into the backcountry with a guide.
Sign Up To Stay in the Loop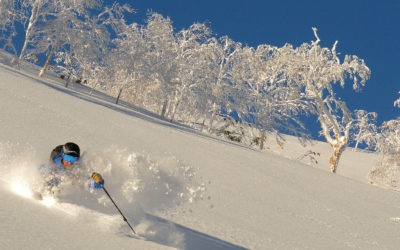 Learn and develop skills as an action sports photographer, journalist or athlete all while shredding some of the deepest snow on earth. Have you dreamed of being a professional freeskier or rider or you want that extra push to start building your portfolio as a professional photographer or action sports journalist?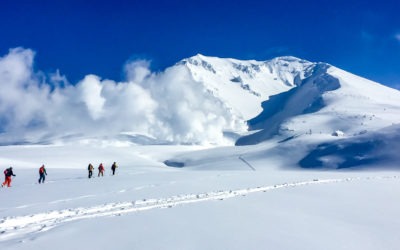 Every year we need to start preparing mentally and physically for the upcoming ski season. Having a successful ski trip to Japan not only depends on conditions but having the right guides to take you there…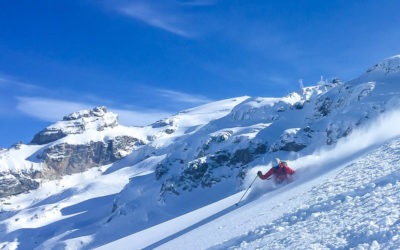 Engelberg, the Swiss Freeride mecca that is known throughout the world as a must travel to destination for the true powder skier. From big lines, consistent snowfalls, an après scene that rivals the best…