Earlier this month we shared with you five good reasons to take a ski trip to Japan. Here is a link to our last blog on Japan Ski Trips in case you missed it. Hopefully after reading that and seeing all the pictures over the years of neck deep powder, you are getting ready for a trip of a lifetime this winter.
Every year we need to start preparing mentally and physically for the upcoming ski season. The photos and videos make it seem like skiing deep blower powder in Japan is a breeze, but we all know there's much more to it. Having a successful ski trip to Japan not only depends on conditions but having the right guides to take you there, the early season training, and not having to deal with the logistics of traveling through a foreign country.
Here are five tips to have a great ski trip to Japan and make the most of your experience.
#1- Start Training Early!
Even though the mountains in Japan aren't quite the size of those in the Alps, Jackson Hole, Utah or Colorado, it doesn't mean you won't be skiing a lot of vertical! In order to be ready to go from open to close and maybe a small hike or two, you'll need to be working the dry land training as soon as possible. Spend time at the gym, on stair sections, squats, anything you can do to improve your stamina for skiing. Not only will you feel better mentally and physically, you will be laying down the foundation for skiing some of the best days of your life!
When you are doing morning laps of bottomless in-bounds pow with no lift lines, and an afternoon of exploring secret stashes, you can easily ski as much vertical as you would during a day at most ski resorts in North America. If the conditions are right and you really want to ski some deeper snow by going on a ski tour, you'll be breaking trail through feet of snow. It takes a serious amount of strength and stamina to ski through chest deep powder. Do yourself a favor and start early to maximize your training as the last thing you want is to take a day off of skiing in Japan. Based on our experience the day you take off will be the deepest day of the week, it's happened before!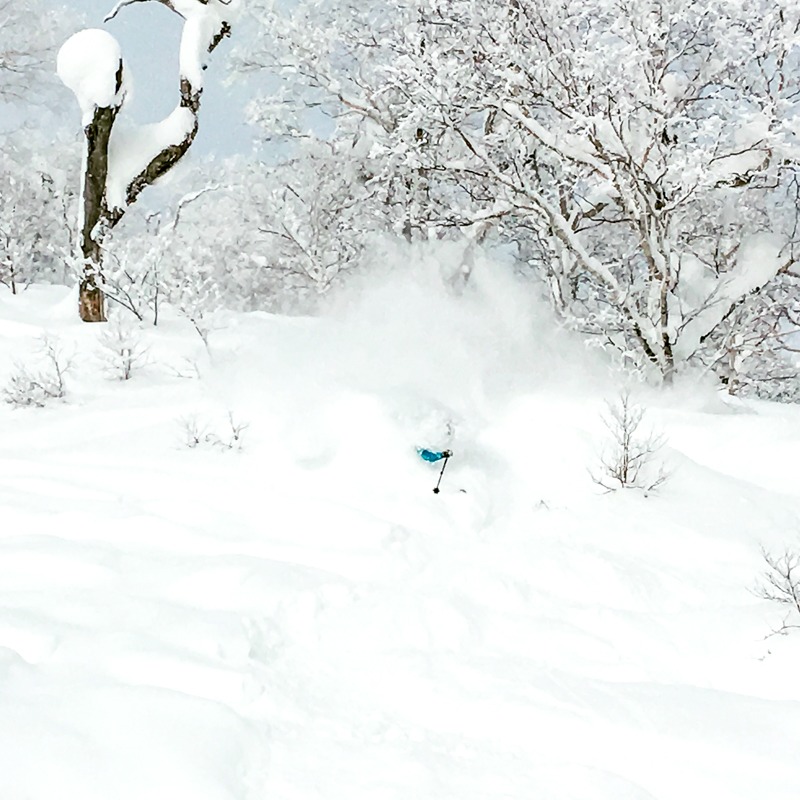 #2 Speed & Managing Terrain
Most of the mountains in Japan are not on the same scale as others like the Alps or most Western US states are. However, areas like Hakuba and the Tokachi Mountains require the utmost respect as there are serious avalanche risks in these regions. As with every mountain environment you will always have risks such as avalanches, terrain traps and managing your speed through terrain for efficiency. Japan has a fair amount of terrain traps, tight tree sections, avalanche zones, and bracken bushes that can easily snag your skis while skiing deep powder. We always suggest hiring a guide as they truly know the areas and risks that are associated in certain locations.
A majority of the time, the deepest and freshest snow is found on/off resort areas that have flat runout sections where you are left having to manage your speed through the terrain. This is a critical skill that can easily make or break your day. Lots of these run outs get you back to the chairlift with either a small track to follow or some trail breaking which our guides will always be happy to do! Smart and educated route selection is critical as you can end up either in a terrain trap or off the safest route. After skiing run after run of untouched bottomless powder, you will be laughing and wondering if what you just skied was real life or a dream. Yes, it was real and the best part is you get to do it all over again!
Learning small techniques to skate with your poles properly, mastering the rollers like a pump track, and cruising the traverse tracks like you are in Star Wars is a skill of the Jedi's. Knowing when to point your skis for speed, absorbing the terrain, and when to bob and weave so you don't knock off your goggles is a skill every skier should learn. Managing the terrain, looking ahead for terrain traps, and controlling your speed will save you enough energy to make that extra run of deep Japan powder.
#3- The Art of Skiing Deep Powder
Storm after storm arrives in Japan with some of the lightest snow on earth. It can snow feet upon feet of snow during your stay in Japan. On average, places like Niseko and Furano receive roughly 5" each night. Add that up over the course of a 10 day/ 9 night trip and you will be looking at 45-50 inches of snow! That is not a bad week of skiing deep powder.
With this amount of snow the true art of powder skiing comes into play. It's a technique that every skier must learn in order to properly ski this volume of snow. Learning to properly weight and unweight your skis is a skill of the Jedi. Too much tip pressure and you nose dive, too much tail pressure and you are skiing on your tails and will have some serious shin bang at the end of the day. Not only do you also need to balance fore and aft, but also the standard left and right turns. This will need to be adjusted for deep snow as you can not weight the downhill ski as much as you would on a groomer.
With the recent changes in skis over the last 5+ years, ski widths vary tremendously. This will help with your overall flotation but you still need to find that sweet spot of 50/50 weight distribution. You have probably heard the term "porpoising" which is a common name for the technique. This still requires a lot of work and once you work your way up to the Jedi level, you will find the up and down is not needed as much. This takes some practice but you will be able to adjust your weight in a variety of ways to not only conserve energy but also how to get deeper! That is the real trick my friends!
Our guides will work with you everyday on skill techniques to not only make you a better skier, but also teaching you the art of skiing truly deep snow over your head! Don't worry if this is a new concept or if you are on your way to becoming a Jedi, join us in Japan and we'll teach you the ways. Chances are it'll be the best ski trip you have ever been on!
#4- Bring the Proper Gear
This tip is pretty much self explanatory: It snows a lot in Japan and its deep snow which means you need a wide pair of skis or snowboard. Our team always skis on wider skis around 105mm to 120mm at the waist. We also use a touring set up (Dynafit, Kingpin, etc) as it provides more options for touring and is lighter weight.
If you will be snowboarding in Japan, it would be wise to consider bringing a split board as it really does open up a lot of possibilities and you don't want to be that guy post holding a nice ski track. Post Holding a ski track just makes it harder for everyone else and is not efficient. It's a good idea to keep a pair of collapsible poles in your pack as well to help with any traverses. Powder baskets on your ski poles is also a must as you will need these to be more efficient and you do not want to get your arm caught behind you because your pole sank too deep.
As with any other day of skiing deep powder you should consider using a backpack to carry extra tools and accessories. It is very common to need another goggle lense or goggle during the day as it gets that deep and if your goggles fog up, it's just going to make skiing that much harder. Extra gloves, a buff to keep you warm, goggles, water, snacks, and most importantly backcountry tools. Always carry a beacon, shovel, probe, and if you want an airbag system as well. Just remember an airbag is a tool and the best tool is your brain. Be smart and know before you go!
#5- Ski Clothes & Staying Warm
Japan's geographical position to the Sea of Japan and the flow of cold air that travels from Siberia delivers some of the best snow on earth. With this also comes extremely cold days and the need to properly prepare yourself for the weather. A good 3 layer waterproof or insulated jacket and pant will be your best friend on those really deep days. We can not express how important it is to not only have proper outer layers but a solid base layering system. The last thing you want is to cut a day short due to your clothing. Investing in your ski clothes is just as important if not more important than your skis. Keeping your core warm and maintaining a good temperature will make an epic day better or turn one into a bad one.
Remember it typically snows six out of seven days a week in Japan with an average of 5" inches per night. In 2016 our team of guides only saw the sun for 3 days while spending over one month in Japan leading trips. Start with either a good synthetic or wool base layer against your skin, then add in either a lightweight down jacket or secondary base layer that comes up around your neck to keep the cold and deep snow out. Yes, it's that deep and at the end of the day you will find snow in spots you never know snow could get to. One of the best things to bring with you are multiple buffs/neck protection as it will really help for those snorkel deep turns. Combine this with the extra accessories you have in your back and you will be ready to battle a wide range of conditions.
#5: Travel with Le Grand Adventure Tours to Japan!
Traveling internationally is a lot of work period. A typical ski trip abroad can take months of research, scoping the spots to explore, weather forecasting, transportation, lodging, etc. Our team has spent decades traveling the globe in search of the best spots. LGA will not only save you time and money but will allow you to focus on one thing, skiing!
There's nothing worse than wasting your first couple of days on a ski trip getting oriented and figuring out where the best terrain is. As you see countless groups coming back after a day of skiing and high fiving each other the odds are pretty good they wont tell you where they went. For the amount of time spent trying to dial in new countries to ski, you should really consider spending the extra couple dollars to follow LGA's team of all star guides so you can maximize your time on snow in Japan.
Over the years we have had many guests and guides join our groups only to say that they could not have experienced what they did on their own. We've been working hard over the last four years to dial in Japan's deepest terrain so our guests truly get a once in a lifetime experience. From the minute you land and are greeted by our team (we won't make you take a bus from the airport like other tour companies do) we'll show you the best spots to ski, eat, and explore this amazing country. On top of this, our packages provide you with the lowest price on lodging you can find, private 4×4 vans every day just for our group, 2 guides every day, Welcome and Farewell group dinners, trips to natural hot springs, lift tickets for 6 to 8 resorts, backcountry touring amongst the volcanos and the seldom explored mountain ranges.
Japan is a mecca for powder skiing and finding accommodations to stay can be very difficult as they sell out months in advance. LGA will take care of everything for you so all you have to do is show up and ride the best snow of your life. Rest assured at night that you'll be the amongst the first groups to access the goods in the morning. LGA Japan is an experience like no other: it's time to rally your crew of friends and visit the land of the rising sun!
Social Share