Furano-Hokkaido Japan
Ultimate Powder Tour

SOLD OUT!
Experience The Legendary Deep Snow of Furano-Hokkaido Japan on our Powder Explorer Ski Tour. Ski The Deepest Snow of Your Life.
Furano should be on every skiers bucket list. The area that surrounds Furano holds some of the best powder you will ever ski. The skiing & riding in Japan is all about untracked powder, escaping the crowds and experiencing an incredible culture. Over the course of the ski trip guests will be able to ski Furano, Asahidake, Kamui, Tomamu, and areas into the Tokachidake Mountain Range. Optional snow cat days are available if the group would like to spend a day skiing untouched powder at an old resort.
Our guides have years of experience skiing these areas and will show you the best the area has to offer. We leave our Furano Ski tour open and with a flexible daily ski itinerary so we can ski the best conditons for that day. This allows our groups to experience the best conditions possible on this central Hokkaido ski tour.
Experience 9 nights in Furano and as much powder as you can handle. See the real side of Hokkaido and enjoy an epic trip for your soul!
You will ride in our comfy 4WD van to whichever resort is best on any given day. Our guides work with you and the weather to make sure that you have the deepest time possible. At night we'll take you to some of Furano's great restaurants and bars where you can enjoy the delicious local cuisine and experience true Japanese culture.
Designed for advanced skiers and snowboarders who are keen to get into the side and backcountry of each resort. This tour will show you all the best ski areas in the Furano region. With only one rest day (optional) you will be on the move and hunting for powder – not that it is too hard to find, but you need to know where to look and that's where our guides come into play.
This is an advanced guided tour where we spend the majority of our time off-piste in the lift accessed side/backcountry of each resort. After all that powder and a few deep soaks in the onsens you'll get to enjoy some of Hokkaido's delicious food and lively bars.
Some of the deepest snow on the earth covering wide open bowls, perfectly spaced trees, and endless sidecountry and backcountry options to explore. With an average snowfall of 15+ meters or 50+ feet per season, it's no wonder that the Hokkaido Area is a perfect snow destination.
Enjoy access to soak in the hot Japanese Onsens. The hot springs have long been revered as a cure for ailments, as well as a way to relax after a great day of skiing powder. Soaking in the onsen is one of the best ways to relax one's body after a day in the mountains.
Enjoy daily breakfasts at the hotel, as well as a welcome and farewell group dinner at a couple of our favorite restaurants. Easy access to all the nearby restaurants and bars during the week so you can taste the incredible cuisine the area offers.
Dates:
Wednesday, January 17 – Friday, January 26, 2018 – SOLD OUT!
Location: Furano-Hokkaido, Japan
Tour Length: 10 Days | 9 Nights | 8 Ski Days
Level of Difficulty: High Intermediate and Above
Guide Ratio: 4 to 1 Client to Guide ratio
Hotel: Pension Snow Crystal, Furano
Included Meals: All Breakfasts, Welcome and Farewell Dinners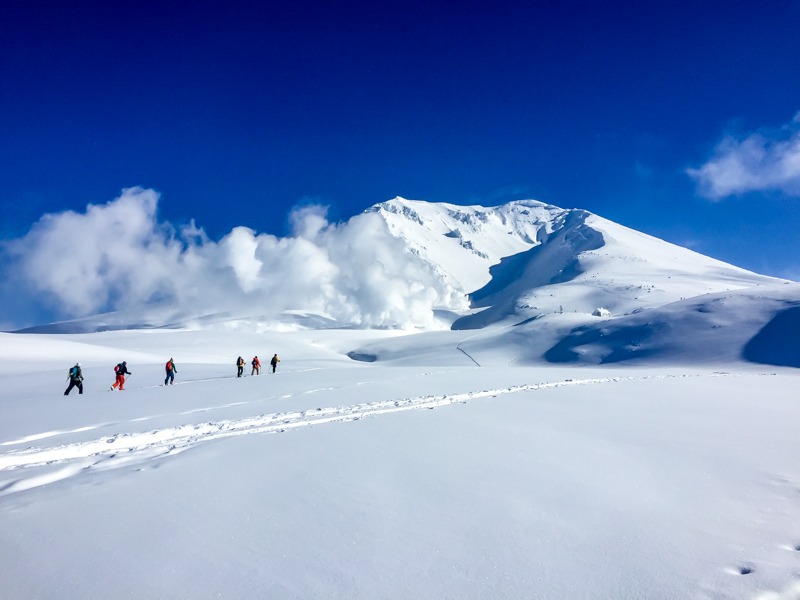 WHAT'S

INCLUDED
9 Nights* Lodging
Airport transfers and all transport on guided days
8 Guided Days at the Following Resorts: 2 x Furano, 2 x Tomamu, 1 x Kamui, 1 x Sahoro, 1 x Asahidake, 1 (optional/rest day)
8 Days of Lift Tickets at the Above Resorts & Skiing with LGA Professional Local Guides\
Skills Sessions with Professional Skiers and Guides
Onsen (Hotspring) tour
Breakfast Every Morning
Welcome & Farewell Dinner
*Hotel Rooms are based on 2 people per room. If you would like a room to yourself please contact us.
THE RIDING

EXPERIENCE
Deep Japanese powder and home to some of the most snow in the world. Each day we lead guests on a guided exploration of the beautiful Furano Area ski resorts. From perfect tree glades to deep powder fields to long backcountry runs, Japan has something for everyone. Untracked powder fields await after short lift lines, easy hikes, and secret spots only our guides know. There is nothing like skiing or snowboarding in Japan. Seasonal winds from the Eurasian continent pick up moisture over the warm currents of the Sea of Japan to from snow clouds and in turn some of the driest, lightest powder in the world.
---
THE CULINARY

EXPERIENCE
Japan, home of amazing sushi, it's seafood quality is known around the world. Sample a wide variety of local and regional cuisine, from Wagyu beef, Yakatori BBQ cooked on the table, incredible curries, and of course no trip to the Japanese isles is complete without a warm and hearty Noodle bowl. Growth of the area over the last couple of years provides ample selection of small independent coffee shops, restaurants and bars. Visitors have every chance to dive into the local cuisine like never before. Included in your experience is a daily breakfast at the hotel, as well as a Welcome and Farewell group dinners at a couple of our favorite restaurants.
---
THE LODGING

EXPERIENCE
Our hotel partners welcome you with friendly service and an unmatched experience that you will never forget. Our location is ideal to access several ski areas in the region with our private 4×4 vans so our groups are always skiing the best conditions that day. Walking distance to a wide variety of restaurants, shops and bars. The Furano area offer a wide variety of natural Japanese Onsens (separate for men and women) having both outside and inside areas. Free WiFi, daily breakfast, and comfortable twin rooms await you at our favorite hotel in the area.
SAMPLE

ITINERARY
Day 1 – Arrival Day
Fly into New Chitose Airport (CTS) by 1pm where the group will be there to transport you. In some cases you may need to plan your arrival the day before. There are many hotels near the airport offering shuttle service so it is easy to meet the group back at the airport by 1pm. We suggest using Booking.com to find a nearby hotel.
Le Grand Adventure Tours welcomes you to Japan! Upon landing at New Chitose Airport (CTS) you will have a private 4×4 van transfer by our guides to your hotel. Settle into your comfortable room and get to know your new crew for the week.
The evening offers your first chance to explore, dine or relax at the hotel with new friends. Relax, enjoy local cuisine, and get ready for a week of powder skiing!
If rentals are needed, we can arrange snow equipment for the week through local shops. If you wish to rent ski/snowboard equipment please let us know so that we can coordinate your rental. It is advised that you try to arrive with enough time on the arrival day to be fitted. Please advise the LGA Team before the trip if you will need gear.
Hotel: Pension Snow Crystal, Furano
---
Day 2 – 9
Enjoy the first two days being guided around one of our favorite mountains – Furano. We'll be hunting out some powder stashes. Celebrate an awesome first day on the mountain with the Welcome Dinner and a few drinks. Day tour to Kamui Ski Links. Spend a day exploring the trees and backside of Kamui. We may stop on the way back to soak in a secluded volcanic onsen. Rest those legs or head out with the guides so they can show you more hidden areas around Furano. Travel to Sahoro to enjoy an awesome day of secluded tree skiing and a sneaky road drop!
Rise early for the drive to Asahidake. Your guides will show the goods of the highest mountain in Hokkaido, Asahidake 2290m. The ropeway does most of the hard work taking us to well above the tree line at 1600m. From there you'll spend your day exploring the ridges from the lift.
Head Mt Racey or Pippu and get the goods amongst the trees. No crowds here – just you and the powder.
Tomamu day tour. Today, your guides will show you around the resort hill of Tomamu with its awesome powder, short hikes and deep north facing backside. There is some great skiing and boarding to be had here. At the end of the day you can check out the indoor wave pool and have an onsen.
Ski your last day in Furano. We might hit our favorite chutes or take you on a secret mission into the backcountry.
Our guides will take the group out for the farewell dinner after skiing to celebrate a great trip. There are some amazing local restaurants a short walk away or down in town. Don't forget to do some Karaoke on the last night!
Hotel: Pension Snow Crystal, Furano
Included Meals: Breakfast Everyday | Welcome and Farewell Group Dinners
---
Day 10 – Departure Day
Time to check out and say goodbye to your new friends and transfer to Sapporo's New Chitose Airport (CTS) for your flight home with memories to last a lifetime!
Included Meals: Breakfast
NOTE: This itinerary is an example. The tour may be altered to adjust for weather and conditions. Our guides will plan the tour around the conditions to make sure you have the best trip possible.
WHAT'S

NOT INCLUDED
Airfare
Lunches: Guests will be able to have lunch at local villages and ski resorts during the week
All Dinners (except 2) are left open for the group to explore town together or experience the local cuisine with new friends. Recommendations will be provided.
Alcoholic beverages
Gratuities for Guides
Travel & Trip Insurance: We require trip insurance for all trips abroad.
We recommend World Nomads as they are the ultimate in travel protection and global emergencies and evacuations.
Gear: Skis, Backpack, Avalanche beacon, Probe, Shovel, Skins and Helmet. If you have your own equipment please bring it. Avalanche safety gear is required on all of our tours and is available to rent for $150 for the duration of the trip.
Rentals: If you need to rent ski/snowboard equipment please let us know so that we can coordinate your rental.
FA

Q
Check out our General FAQs section. Here you will find answers to your general questions.
What Should I Bring With Me?
Ski/Snowboard Gear:
Skis/Snowboard, boots, poles
Goggles
Helmet – stay safe on the slopes!!
Misc/Recommended:
Backpack
Avalanche Transceiver
Shovel/Probe
Touring Gear and Skins
Packable Puffy
Climbing Harness (that fits over ski pants)
(We can assist with some gear, please feel free to contact us)
Après Clothing:
You will be in the Alps for a week so please bring proper clothing for when you're not on the slopes.
Travel Requirements:
Current Passport
Credit card, cash and/or traveler's checks
ID or driver's license
Medical insurance cards
Prescriptions or other medications
Important phone numbers
Proof of Travelers Insurance
---
Can I Reserve My Trip With a Deposit?
Yes, you can reserve your trip with a Deposit for all tours. Reservations are available immediately once a trip is announced and up to 90 days prior to the Date of Departure. The Deposit amount is twenty percent (20%) of the Tour Price. When booking within 89 days or less prior to the date of departure, the full amount is due at time of booking.
---
When Should I Make My Travel Arrangements?
Please wait until you receive confirmation from Le Grand Adventure Tours before making any travel arrangements. Our team is happy to assist you with any travel needs.
---
When is The Final Payment For This Tours Due?
Final payment is due no later than 90 days prior to departure, or 7 days from booking confirmation if booking is within 90 days.
---
What Is Your Cancellation Policy?
90 days or more prior to Departure: LGA will retain the deposit as an "Adventure Deposit" for a future trip. Full refund will be given.
89-60 days prior to Departure: LGA will retain 50% of the total Tour Price and the deposit will be held as an Adventure Deposit for a future trip.
59 days or less prior to Departure: LGA will retain 100% of the total Tour Price.
Le Grand Adventure Tours cannot be held responsible for snow and/or weather conditions. Trips cannot be cancelled or amended on the basis of snow and weather conditions.
---
What Is Your Refund Policy?
No refunds, reimbursements or discounts will be granted if, for any reason, Client misses the Tour, fails to join the Tour, leaves the Tour, is dismissed from the Tour, or cannot fully participate in the Tour. Any Refunds will be at the discretion of Le Grand Adventure Tours if you are involuntarily forced to leave a tour for any reason.
---
Hotels Before & After Your Trip
There are a lot of great hotels in the Chitose area close to the airport if you plan to arrive early, a day before the trip start, or if you plan to stay for an extra night before you leave. We suggest using online resources like Booking.com to check availability. We are always happy to help and offer recommendations for all of our guests.
---
What Type of Skis To Bring?
A ski with roughly a 100mm to 110mm is the best option. If you want to bring a wider pair of skis please feel free or we can rent these if needed.
---
Do I Need Ski Touring Equipment?
It is highly recommended but not mandatory. If you have a new pair of touring bindings (Dynafit, Plum, Marker, Salomon, etc) and are comfortable skiing a wide variety of terrain on them, please feel free to bring them.
---
Do I Need Backcountry Safety Gear?
Avalanche safety gear is required on all of our tours. If you have your own equipment please bring it. Ski backpacks including beacon, shovel and probe are available to rent for $150 for the duration of the trip. (Option available to add-on at checkout. If you wish to add later please feel free to contact us.)
---
Ski & Gear Rentals
If you wish to rent ski/snowboard equipment please let us know so that we can coordinate your rental. Please advise the LGA Team before the trip if you will need gear.
---
What is the Best Way to Get There?
Fly into New Chitose Airport (CTS) by 1pm where the group will be there to transport you. In some cases you may need to plan your arrival the day before. There are many hotels near the airport offering shuttle service so it is easy to meet the group back at the airport by 1pm. We suggest using Booking.com to find a nearby hotel.
---
What Is The Weather Going To Be Like?
For the most accurate weather please check the Furano Weather Online a few days before your trip. If you want to experience the best snow in the world, you need to be prepared with good gear, as it can get cold. It's not unusual to receive 30cm to 50cm+ (12 to 20″+) of snow overnight! Many storms will drop upward of 100cm's plus or basically 3 feet every couple of days. We will be in the mountains so bring clothes that will keep you warm in a wide variety of conditions. We will guarantee you get the most out of your ski holiday as we have a wide range of activities that we can add into the trip incase there are down days due to snow storms or weather.
---
What is The Group Size?
Small group sizes that don't exceed 10 guests.
---
Do We Need to Tip Our Guides? If So, What is Standard?
Gratuities are not included. Tips are accepted at your discretion based on the overall trip experience provided by our team.
---
Do I Need Trip Insurance?
Trip Insurance is Not Included: We require trip insurance for all trips abroad. Protecting your trip & safety is our priority!
We recommend World Nomads as they are the ultimate in travel protection and global emergencies and evacuations.
---
 How Long Does It Take to Fly to Japan?
Flight time from the West Coast of the United States to Japan is approximately 10-16 hours depending on if you book a direct flight or a flight with stops.
---
Are There Any Rules/Traditions Pertaining To The Onsens (Hot Springs)?
Onsens are usually dedicated as either male or female baths. An onsen is a natural thermal hot spring. A word of warning – if you have tattoos you may not be allowed to enter. However, if you are a foreigner and the tattoos are not particularly obvious then you will generally be OK. Make sure you wash and rinse off your body before you get into the water. Note: Ritually these are full nudity baths, there are small towels to cover your 'modesty'.
---
Can I Use My Credit Card in Japan?
Japan is mostly a cash based society. Most larger restaurants and bars will probably accept international credit cards (non-Japanese), a lot of smaller restaurants, bars and convenience stores will only accept cash. As crime in Japan is one of the lowest in the world, most people carry plenty of cash with them. A lot of ATMs in Japan do not accept international cards.
---
Which Languages are Spoken in Japan?
Japanese is the native language of Japan. The amount of English that is spoken varies considerably in Japan. A good rule of thumb is that English is much more widely spoken in destinations that are popular with international tourists.
---
Is It Safe to Travel to Japan?
In general Japan is one of the safest countries in the world to travel around. This is due largely to one of the lowest crime rates in the world and the incredible hospitality of the Japanese people.
---
Why Does Japan Get so Much Snow?
The abundance of powder in Japan is a result of the Siberian snow stream, the largest example of lake-effect snow in the world. High pressure over Siberia and low pressure over the Western Pacific leads to a constant flow of cool air across Japan. As this chilled, dry air flows over the Japan Sea it attracts moisture and becomes overly-saturated. This air hits the mountain ranges of the Northern Alps and Japan is blanketed with powder snow. These cyclical weather patterns last for weeks, guaranteeing regular dumps of the lightest and fluffiest powder imaginable.
---
What Are The Japanese Mountains Like Compared to Europe and North America?
This varies somewhat between resorts and the different islands but generally the major Japanese resorts are not as high and steep as their counterparts in Europe and North America. Ultimately one must always understand the snowpack as it can change rapidly in the mountains and is safest to travel into the backcountry with a guide.
Engelberg/Andermatt Freeride Ski Trip
I spent a week in Switzerland with LGA and had one of the best weeks of my life on all and every level. Jeff and Crystal go above and beyond to insure all aspects of the tour are top tier and amazing. They are not only great people but have in depth knowledge, insight, and information to make the trip fun, safe, and memorable. Skiing in places like Japan, AK, and Argentina I thought I had seen it all, but Jeff showed me some amazing skiing that marked as some of the best of my life. A truly great trip.
Ryan M.
Japan Ski Trip
Japan Powder Tour – Unreal! This is an absolute unbelievable adventure. If you want to ski big pow and are also looking for an incredible cultural experience, this is the trip for you. I've skied my entire life (last 18 years in Colorado as well as 3 years in Switzerland / Austria) and this was by far the best ski adventure I have ever taken. Some of the most memorable and best runs of my life. In addition to the incredible snow and terrain, Jeff and Crystal are true professionals both on the Mountain and off. This trip was butter smooth thanks to Le Grand Adventure Tours. A bucket list item for sure!
Ryan P.
Swiss Road Bike Trip
Wow this was really special. We road during the day and then went on wine or brewery tours, or we went to great restaurants every night. Jeff and Crystal were really impressive. Our group was intentionally small – just 4 of us. The private guiding was amazing because they knew SO much about the country. Even with just 4 of us, the rider ability was very different and they made it fun for everyone. We saw so many amazing sights we never would have found without Le Grand Adventure Tours.They coordinated the lodging, restaurants, rides, trains, etc. At 47, this was the best trip of my life. Jeff and Crystal have great energy and that is contagious. Jeff is the best cyclist I have ever seen and he can lead anyone. Crystal is an absolute joy to be around and the two of them are an unbeatable pair. I strongly suggest them.
Rich M.
Murren Ski Trip
Our Murren Switzerland Ski Trip was amazing! Jeff and Crystal did an awesome job creating a perfect trip with great skiing, incomparable ambiance, and the European Ski Vacation we had on our bucket list for years. They took care to find the best snow each day in an enormous valley full of choices, while maintaining the romance (our 20 year Anniversary) and adventure (cliffs, zip lines, Alp vistas) of an epic European vacation. If you enjoy great, challenging skiing, and well planned trip in a beautiful place, I highly recommend a trip with Le Grande Adventure Tours.
Casey T.
Chamonix Ski Trip
Beyond all expectations! These guys rule. The guides were incredibly knowledgable. The skiing was phenomenal. Decisions about where the best snow would be for the day's conditions were always spot on. The terrain we skied matched the advanced level of the group, so that everyone was comfortably challenged. Accommodation was a lovely private chalet, super comfortable, and cleaned daily – a convenient short walk to town. The hot tub was a huge bonus. Private chefs provided exceptional feasts. Private daily ski transportation made travel easy. The professional photography came out amazing – such a nice treat to leave a trip like this with. No corners were cut. I always felt in good hands. I traveled solo and felt incredibly welcomed. I highly highly recommend joining a Le Grand Adventure Tour.
Judith K.
Fill out the below form to book your trip of a lifetime. An LGA team member will be in contact with you to discuss the trip to ensure a proper fit! Please note: You will not be confirmed to book a trip until speaking with a trip consultant.
"But we lean forward to the next crazy venture beneath the skies"



~ Jack Kerouac